Reference Section
Page under construction. Please check later - Thanks
CEDAR BREAKS CAMPGROUND, LAKE GEORGETOWN (ACOE)
Wednesday, October 2nd to Sunday, October 6th, 2019
GOODWATER LOOP IMBA EPIC MTB TRAIL RIDE
COST: $60 per person for all 4 days for meals & campsite.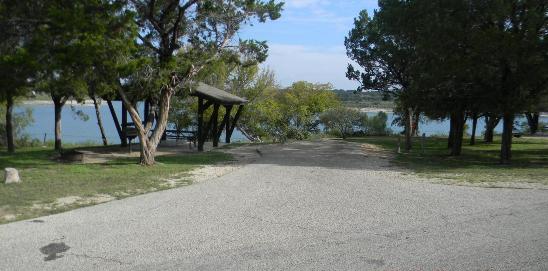 OVERVIEW
Reservation # 0172255061
Cedar Breaks Park: 512-930-5253
Truck: BS0-8548 Trailer: B10-3560
Arrival Wednesday, October 2, 2019 Check-in: 3:00 pm
Departure Sunday, October 6, 2019 Check-out: 2:00 PM
The main gate is only open from 10 AM to 7 PM Wednesday and Thursday, and from 10 AM to 10 PM Friday and Saturday. Plan accordingly.
CAMPSITE
Bruce has Site-027 reserved which is right on the water. See the photo above. He is bringing the trailer which has heat, air conditioning, full kitchen with microwave, full bath and satellite TV so we don't miss any important games. It can sleep 7 comfortably. We will use an outdoor camp kitchen with stoves and grills for main meal preparation. Below is a photo of the trailer from a previous campout.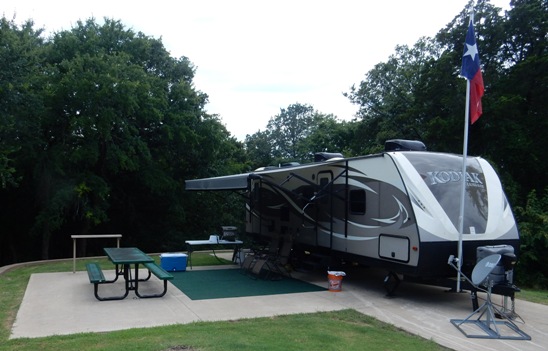 The campsite is limited to 8 persons and is about 300' from the park showers and restrooms. While the trailer has a bathroom, the holding tanks do not have the capacity to accommodate all of us for the entire stay, so the park showers and restroom will be used during the day. The bathroom in the trailer may be used late at night during sleeping hours so folks do not have to venture outside to use the restroom.
Tent camping is okay if you want to bring your own tent, tent pad and sleeping gear. The only limit is 8 persons on the site. There is a 9x10 tent with queen air mattress carried in the trailer if you want to set it up and repack it when done.
PARKING
Two cars can be parked at the site as long as they are on the pavement. One of the cars will be my Suburban used to tow the trailer. There is an overflow parking area for extra cars, and the park staff said there is no limit on the number of vehicles we can put in the overflow area. There is a $5 per day parking fee per vehicle you will need to pay for the number of cars beyond the 2 at the camp site.
You can ride down from Richardson with Bruce if you do not want to take your car. He can take up to 4 additional persons and bikes with him. Departure will be between 11 AM and noon on Wednesday.
ITINERARY
Wednesday, October 2nd
The first day will be devoted to travel and check in at 3:00 PM, setting up camp, having dinner, and socializing around a camp fire that evening.
Thursday, October 3rd
Since not everyone is likely to be there for Thursday, this will be a day of side trips and a small amount of riding. Candidate side trips will be determined by group interest, so think about what you might want to do while in the area.
Friday, October 4th
The plan is to ride the Goodwater Loop at an exploratory or sight-seeing pace and become familiar with the trail prior to our main ride on Saturday. This trail is one of only 2 IMBA EPIC trails in Texas.
The Goodwater Loop is considered a technical trail. While it's mostly flat, there are a few short sections with steep climbs and descents that may have to be walked. There is a section of "Cheese Grater" limestone at the beginning of the trail. Most of the trail is single track, although there are a few sections of double track (Jeep road) and the final section across the dam is paved.
Saturday, October 5th
Saturday will be our major ride day. We will ride the entire Goodwater Loop at a normal ride pace. Since the trail is 26 miles long, the ride is expected to take 4-5 hours.
Sunday, October 6th
Sunday, we have breakfast, break camp before 2:00 PM and drive back home.
MEAL PLANNING
The main meals are a group event. Everyone helps with the preparation and cleanup.
A menu covering breakfast, lunch and dinner each day will be socialized and finalized with the group no later than the weekend before departure. Bruce, and anyone that would like to help with the grocery shopping, will buy provisions a day or two before departure. Everyone pays for food by the Sunday before departure. Folks will also help with the cost of ice for the coolers while at the campsite.
Between meal snacks are not included in the main meal plan. Instead, everyone brings their own favorite after noon and evening snacks with a little extra to share with the group. Everyone also brings their own adult beverages. We do not want to be obvious regarding alcohol, so plan on using a stealth coozie or red Solo cup for your adult beverages.
MENU
(Typical of what we normally have, but not yet final. Need the group's input before finalizing.)
Wednesday, October 2nd
Everyone should have had lunch by the 2:00 PM check in time on the trip down, so lunch is not planned. Since this will be a travel & set-up day, most of us will be tired and not want to prepare a major meal. Dinner will be quick and easy.
Dinner:
Brats and hot dog buns.

Potato chips

Baked beans
Thursday, October 3rd
Breakfast:
Coffee

Cereal

Toast & muffins
Lunch:
Sandwiches (Ham, turkey, cheese, lettuce & tomato; PB&J; etc.)

Chips

Drinks
Dinner:
Friday, October 4th
Friday will be a light ride day.
Breakfast:
Lunch:
Sandwiches (Ham, turkey, cheese, lettuce & tomato; PB&J; etc.)

Chips

Drinks
Dinner:
BBQ baby back ribs

Coleslaw

Baked beans

Smores
Saturday, October 5th
Saturday will be our major ride day, so a good breakfast will be needed.
Breakfast:
Coffee

Eggs

Bacon

Home fried potatoes

Toast & muffins
Lunch:
Sandwiches (Ham, turkey, cheese, lettuce & tomato; PB&J; etc.)

Chips

Drinks
Dinner:
Sunday October 6th
Sunday, we have breakfast, pack and break camp.
Breakfast: